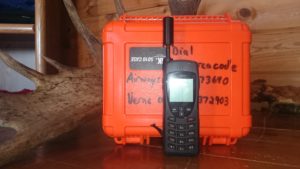 When you are heading to the middle of no where for a week it is nice to know that you are being kept an eye on, right?
We have an aircraft, piloted by Verne, that is dedicated to just that. Every couple of days stopping by to deliver more ice, bait or supplies, pick up your garbage and give you your pick up time and just make sure that everything is running well. We have been doing this for decades and it is really the key to making sure that everything that can be reasonably foreseen is looked after and someone who cares is also there to deal with the unforeseen that occasionally pop up.
IF you rent a satellite phone you can order bait or any other supply to be dropped on the next flight. You have instant communication with us and should an emergency develop, you are able to relay to us your predicament and we can get right on it. Common sense would tell you that if we have many hundreds of clients every year and have been doing this for over 25 years and a lot of folks drink [not responsibly] that we would have constant issues and the exact opposite is actually the case. Very very seldom do we have any issues but in the unlikely event that you do, the phone helps resolve it quicker. For those traditionalists [most of you!] that do not prefer that type of contact we have a dry marker board where we can leave messages for each other as I come and go.