Slate Falls Outposts started operating in 1986 with 6 outpost locations.  30 years later we are still going strong.  We were industry leaders back in the day with "spare" coleman lanterns, mattresses not 'foamies', hand pump water at the sink, 3 burner counter top stoves instead of colemans, swede saws for the firewood and regular check flights.  You flew in on a piston Otter or Beaver.
JUMP AHEAD A DECADE and we are still leading our industry with new motors each year, 4 burner stoves with ovens, on demand solar water at the sink, solar lighting everywhere, each cabin now has a propane chest freezer in addition to the propane fridge and we introduced our first solar fridge.  Operating 10 sites now, all cabins with large decks, BBQ's, cut up firewood and boat seats. You flew in on a Cessna Caravan.
JUMP ANOTHER DECADE and our 'every 2 days service flights' is one of our signature services. Firewood now resides in a wood shed, indoor plumbing, covered decks, sat phones are now available to take with you. Outside fish cookers and boat slip docks are everywhere. We dropped our camp volume strategically down to 6 and introduced the first turbine otter in the area.
JUMP FORWARD TO NOW and we have solar fridges and freezers at every location and the propane stuff is long gone. All the cabins have separate bedrooms and mostly no bunk beds anywhere. Ryan is assisting me full time in the continued development and maintenance of everything.  Opening Hooker Lake up this year, rounding our total cabins up to 8, all the docks now have multiple hand rails installed for ease of getting in and out of the boat. Motors are all 4 stroke gas sippers now, with Lake St.Joseph getting all electric motors for the upcoming season!  Two turbine Otters get the groups in and out safe and efficiently.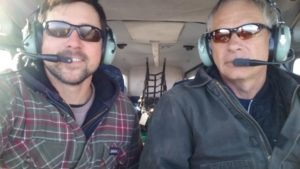 JUMP AHEAD 10 YEARS and we will still be here, leading the way in our industry and who knows what we will be offering by then!